Our delicious, refreshing, naturally flavoured sparkling water but made faster with 80mg of natural caffeine.
No need to read the back you know what your drinking.
Clean, lean energy with Almighty Active.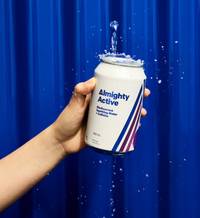 Clean energy
We make drinks that make you feel your best so you can live your best. That means nothing artificial, no ingredients you can't pronounce. Supporting little gardeners
We work with our partners to help to empower children to grow, harvest, prepare and share great food by taking learning out of the classroom and into the garden and kitchen. It also means that sometimes we get to get our hands dirty on a Friday lunchtime.
Awesome clean drink alternative that makes you feel alive!
I love these Almighty drinks. It's the only drink alternative to coffee and plain water for me. It's very clean and refreshing without sugar and strong overpowering tastes. I love they now have one with caffeine for that afternoon pick me up...great alternative to coffee. Natural flavors are great and refreshing! The only cold drink I will purchase at cafes.
My new drink of choice
I have a reasonably active job but don't drink tea or coffee. I like caffeine because I'm human but not so much the sugar in energy drinks. The blackcurrant and Apple active drinks are perfect as they taste great, have bubbles and caffeine. ♥️
Yum
Love this, helps me survive the days running around after my twin boys!
Yummy
Blackcurrant flavour is my favourite, such a refreshing delicious drink.