Natural Flavours
Our waters are super refreshing with subtle, delicious, natural flavours. The best kind of bubbles.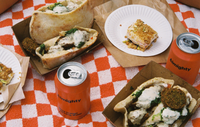 Almighty Blood Orange
Delicious and nutritious! Always prompt dispatch and delivery too. 🧡
Excellent product
I love to support great products. Particularly with the types of values you profess. I find I can happily join in on any social occasion - & feel I have a delicious, refreshing drink. I don't feel like I'm missing out since I quite alcohol. Well done.